Document conversion outsourcing services is a sure shot remedy for the data management ills plaguing most organizations. Tons of unstructured data being generated during their day to day operations will not just slow down the business processes but will seriously compromise the quality of the database. Data conversion services will enable organizations to convert their redundant data into useful and easily accessible file formats by weeding out useless files. DEIO's Document Conversion Services guarantees your files will be returned to you undamaged and in the desired format.

Outsourcing will help businesses to turn fragmented data that doesn't make any sense into well organized digital formats, which is easy to access, store and share among the different departments within the organization. Document conversion services will trim down the data size and help you to save it in a secure and easy format. Digital data can be retained for a long time without any loss of quality. The best part is that while converting a document from one format to HTML or XML, original images and searchable text can be retained.
Outsource Document Conversion Services to Data Entry India
As organizations grow, the amount of data that has to be managed also goes up manifold. Businesses face the challenge of updating and saving various forms of data including hard copy and different types of electronic documents on a regular basis. Often, these documents may have to be converted from one file format to another. This is a highly specialized task that requires a lot of effort and time. Let the expert team of Data Entry India take up document conversion services for you to ensure perfect management of documents at the best rates.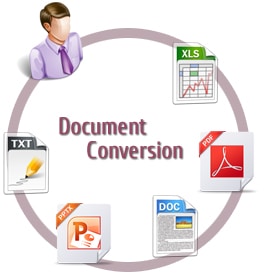 Employing your in-house team on data conversion services would mean that you will be compromising on your core business operations. By outsourcing, you get the advantage of not just an expert team but state of the art technology and a highly accurate and ready to use the output in the shortest possible time.

If you are looking for a reliable outsourcing partner, you have come to the right place at Data Entry India. Call us to get started!